Partner with M-Factor for Elevated Managed Services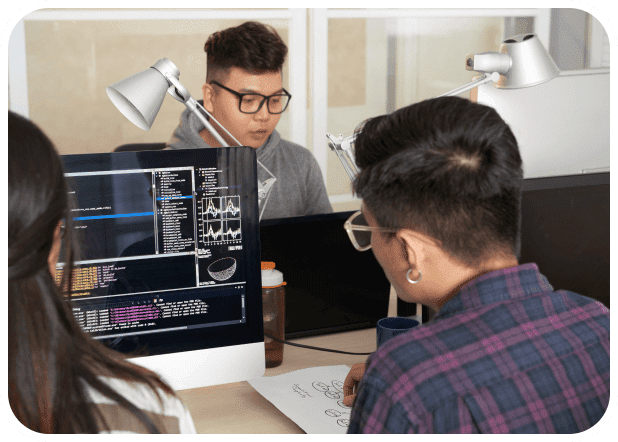 Experience streamlined operations, seamless collaboration, and superior results through our comprehensive managed services solutions. Achieve peak efficiency with our tailored support.
At M-Factor, we follow a structured, four-phase approach to deliver exceptional managed services.
1. Assessment

We conduct a thorough evaluation of your existing infrastructure and operational needs.
2. Design

Our experts create a customized managed services plan tailored to your business goals..
3. Implementation

We deploy the chosen solutions and services to optimize your operations.
4. Continuous Improvement

Our team provides ongoing monitoring, support, and optimization to ensure long-term success.
What Our Clients Are
Saying
Mfactor has been our steady partner for all our website related needs. They have been highly responsive and creative in addressing our requirements. Very reliable as well. Look forward to working with them for our forthcoming upgrades as well.
To describe MFactor:
3 verbs - Underpromise... Overdeliver... Envision...
3 adjectives - Attentive... Responsive... Committed...
3 nouns - Precision... Execution... Lifesupport...
Our partner in the long run for all things technology... from websites to apps, infrastructure to collaboration
Mfactor is a great partner for all our website and app development needs. They have shouldered the responsibility of scaling our website infrastructure, making it suitable for multiple languages, handling user friendliness and just regular ongoing updates that are required to keep our site in tune with the dynamics of our global activities. Highly reliable and trustworthy, and we strongly recommend them to anyone considering a new website partner.
Inquire with our experts on enhancing efficiency and minimizing expenses.
Partnering with M-Factor Consultancy for your managed services needs offers several advantages to your business:

Our continuous monitoring and proactive maintenance prevent issues before they disrupt your operations.

We implement robust security measures to protect your data from threats.

Scalability and
Flexibility
Our solutions can scale with your business's growth and adapt to changing needs.

Managed services help you optimize costs by reducing downtime and IT-related expenses.
Our Cutting-Edge
Technology Stack
Frequently Asked
Questions
How can managed services benefit my business?
Managed services offer proactive IT support, enhanced security, cost savings, and access to expertise, allowing you to focus on your core business activities.
Can I customize the managed services to suit my specific needs?
Quality is non-Absolutely. We understand that every business is different. Our team works closely with you to understand your requirements and design customized solutions tailored to your business.
for us. We follow the best practices in code reviews, continuous integration, and automated testing. Additionally, our quality assurance team tests each feature thoroughly to ensure it meets the highest standards before it gets the green light for deployment.
Are your managed services scalable as my business grows?
Yes, our managed services are designed to scale with your business. We can easily accommodate your growing needs and adjust the services accordingly.
What level of support can I expect from your help desk?
Our help desk team provides prompt and reliable support, addressing your IT issues and inquiries in a timely manner. You can count on us for efficient problem resolution and technical guidance.
What types of businesses benefit from your managed services?
Our managed services are adaptable and suitable for businesses of all sizes and industries. We tailor our solutions to meet the unique needs of each client.